BSc in Quantitative Finance
Students
Students Experience
Students And Alumni Testimonial
Students Awards
Text Area
The program goes beyond training 'quants'. It aims to nurture future finance professionals who can bend technical knowledge with an ability to work effectively with others and make a difference to business and society.
With this in mind, we offer a wide range of value-enhancing activities, so as to enhance the all-round development, business acumen and job-readiness of our students. Some of the enrichment activities include career mentorship program, Undergraduate Research Opportunities Program (UROP), finance seminars conducted by industry professionals and sharing sessions by alumni. These events intend to bridge the gap between industry expectations and what our students learn in classrooms.
In addition, our students actively engage in community service, join-university conferences and international competitions. The Department of Finance strongly supports and encourages students to broaden their horizon by providing related faculty advising.
Social events such as networking sessions, alumni-student mixers and happy hours are organized by the Department to foster a strong bonding among students and alumni.
Container
QFIN Career Mentorship Program
Text Area
The QFIN Career Mentorship Program aims to provide a platform to connect QFIN students with prestigious mentors who have achieved success in various sectors of the industry. It is our honor to have the industry leaders as QFIN students' career mentors. They have helped QFIN students solidify their goals and gain professional perspectives. QFIN program is grateful for the partnership built with our mentors, and sincerely appreciate the support they have provided.
Here is the list of QFIN mentors and the periods they participated in the mentorship program:
Angus HUI (2016 - Present)
Anthony LAU (2009 - Present)
Clifford WONG (2022 - Present)
David LEE (2017 - 2019)
Elton SHUM (2019 - Present)
Gabriel LO (2017 - Present)
Gladys CHAN (2013 - Present)
Haris LAW (2014 - Present)
Jack YANG (2014 - Present)
Jacky LEUNG (2009 - Present)
Jennifer HSIEH (2019 - Present)
Jessica KONG (2022 - Present)
Jürg NIEDERBERGER (2016 - Present)
KC CHAN (2017 - 2018)
Kelvin CHEN (2017  - Present)
Laura LUI (2019 - Present)
Philip TSO (2009 - Present)
Ronnie WU (2011 - Present)
Sam T. CHAN (2017 - Present)
Samuel CHANG (2016 - Present)
Stephen LAU (2014 - 2021)
Steven SO (2013 - 2019)
William CHOW (2016 - Present)
If you have any question about this list, please feel free to contact us.
Text Area
The oversea exchange program can benefit students in many areas and provides advantages which can be carried through life. Through studying at leading overseas universities, students enrich their global outlook and expand their vision, interpersonal skills, creativity and cultural awareness. HKUST Business School continually seeks new opportunities to expand our network of quality exchange partners. To date, we have established a total of over 138 partners in world-wide destinations where students can choose to go on exchange. Click here for more information about exchange.
Our QFIN students have gained valuable exchange or visiting experiences at leading overseas universities, including but not limited to the following list.
University of Pennsylvania
University of California, Berkeley
Cornell University
New York University
Carnegie Mellon University
University of Texas at Austin
Stockholm School of Economics
Copenhagen Business School
Tsinghua University
Peking University
University of Southern California
Boston College
University of Michigan
University of Virginia
National University of Singapore
McGill University
University of British Columbia
Text Area
Internships provide experience of corporate life before graduation and invaluable understanding of an exposure to work practice in the industry. Internships shorten graduates' learning curve in joining an organization and effectively help them optimize work performance.
QFIN students have gained internship experience in:
Accenture Strategy
Bain & Company
Bank of America Merrill Lynch
Blackrock
BNP
Boston Consulting Group
China Asset Management
China Galaxy Securities
China Renaissance
Citadel
Citi
Credit Suisse
Deloitte Touche Tohmatsu
Deutsche Bank
Ernst & Young
Goldman Sachs
hang Seng Bank
Hong Kong Monetary Authority
HSBC
JP Morgan
KPMG
Morgan Stanley
PricewaterCoopers Hong Kong
Point72 Asset Management
SDIC Fund Management
Silverhorn
UBS
Support for Acquiring Professional Qualifications
Text Area
QFIN program is comprehensive and offers many elective courses for students to develop specialties in specific areas of finance. As such, our graduates usually do well in the examinations for professional qualifications such as
Chartered Financial Analyst (CFA)
Chartered Alternative Investment Analyst (CAIA)
Certified Financial Planner (CFP)
Financial Risk Manager (FRM)
Professional Risk Manager (PRM)
Licensing examinations organized by the Hong Kong Securities and Investment Institue (HKSI Institute)
For UG students, the Department of Finance administer the application of the CFA awareness scholarship and selection of scholarship recipients for eligible final year FINA and QFIN students who are first time taker of the CFA exam. The existing scholarship is for the June exam only. Final year FINA and QFIN students can apply when the Department sends email to students in early December. Ranking criteria is mainly on academic performance.
Text Area
QFIN students can participate in the Undergraduate Research Opportunities Program. This program nurtures an undergraduate research culture at HKUST. It is designed to give undergraduate students an opportunity to work closely with work-class scholars and participate in a range of research, scholarly and creative activities. In addition to invaluable knowledge, skill sets, and experience, students who join UROP can earn academic credit and stipend at the same time. Click here for more information about UROP.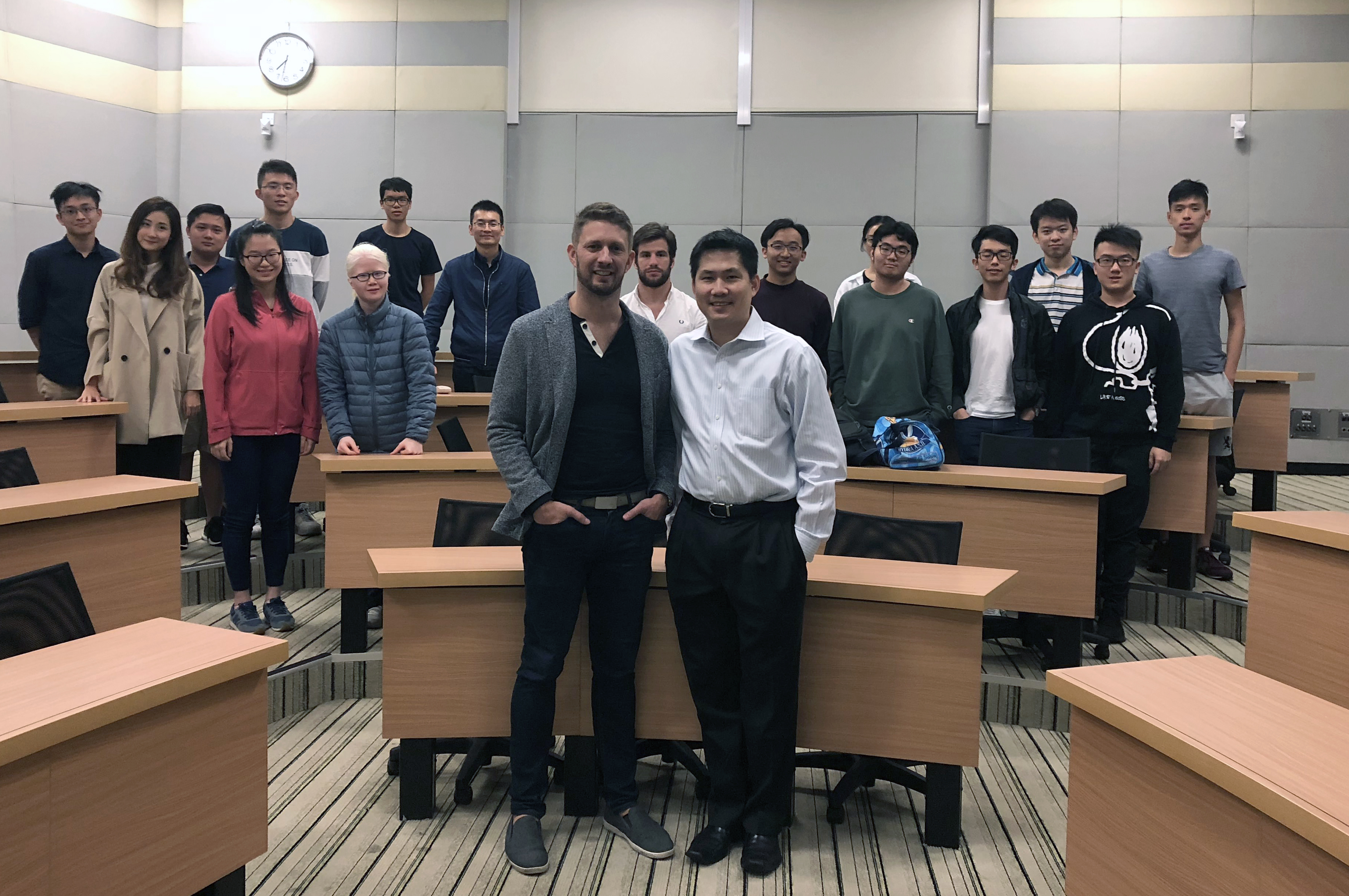 Text Area
Miss. Sunny Lee
BSc in QFIN, Class of 2022
Sunny has gone through a lot of interviews from different large quant firms, and worked for Jane Street, World Quant, and Flow Traders. She is going to share her experience on interviewing and working at those quant firms.
Left Column
Text Area
Part I: What are Quant Firms
Right Column
Text Area
Part II: Why Quant + Some Myths
Left Column
Text Area
Part III: Interview + Internship
Right Column
Text Area
Part IV: Q & A Session
Left Column
Text Area
The Quantitative Finance program of HKUST Business School is a comprehensive one, which helps you to build the three important aspects for you to shine in the finance industry, namely technical skills, outreach opportunities and close connection with alumni and the industry.
Right Column
Text Area
Mr. Henry Chow
BSc in QFIN, Class of 2016
Left Column
Text Area
Miss. Alice Yu
BSc in QFIN, Class of 2016
Right Column
Text Area
The department is really supportive and connects new joiners with alumni. Besides, the Quantitative Finance program is well-structured. It provides students with solid technical training through interactive and dynamic teaching approach.
Text Area
The BSc QFIN Program has established the Student Service Award to recognize students for their significant contributions to the QFIN community throughout their years of study in QFIN program.
Eligibility and Selection Criteria:
Final year students who are having QFIN as their 1st major or additional major
Proven record in making significant contributions to the QFIN community
Awardees will be nominated by the QFIN Program
Recognized contributions (including, but not limited to)
QFIN student ambassador
QFIN student speaker
QFIN SSLC student committee member
QFIN Peer Mentor
QFIN event helper
QFIN event organizer
Container
QFIN Student Service Award 2023
Text Area
YEUNG, Hin Chun Bruce, QFIN Rising Star Diamond Award 2023
WONG, Chun Ho (Matt), QFIN Rising Star Gold Award 2023
WONG, Sze Long (Anders), QFIN Rising Star Silver Award 2023
WU, Hoi Kwong (Jackie), QFIN Rising Star Silver Award 2023
KAMATH, Aditya, QFIN Rising Star Silver Award 2023
LAN, Qing (Kendra), QFIN Rising Star Silver Award 2023
HUNG, Chak Lung (Kenji), QFIN Rising Star Silver Award 2023
LI, Pui Kwan Joycelyn, QFIN Rising Star Silver Award 2023
QFIN Student Service Award 2022
Text Area
TANG, Lai Ming (Eli), QFIN Rising Star Diamond Award 2022
SO, Man Kit (David), QFIN Rising Star Diamond Award 2022
LEE, Pin-hung (Sunny), QFIN Rising Star Gold Award 2022
LIU, Zhenghui (Will), QFIN Rising Star Gold Award 2022
LEI, Naiting (Dexter), QFIN Rising Star Silver Award 2022
CHENG, Tsz Yui (Gordon), QFIN Rising Star Silver Award 2022
QFIN Student Service Award 2021
Text Area
CHAN, Hiu Chun (Sunny), QFIN Rising Star Diamond Award 2021
WONG, Chi Ho (Kelvin), QFIN Rising Star Diamond Award 2021
LIU, Yucen (Eunice), QFIN Rising Star Diamond Award 2021
LI, Jinhang (Jinnie), QFIN Rising Star Gold Award 2021
AU, Man Yi Sigmund, QFIN Rising Star Gold Award 2021
YU, Shing Yui (Tornado), QFIN Rising Star Silver Award 2021
ZHU, Yining (Rosella), QFIN Rising Star Silver Award 2021
KO, Tin Ho (Anson), QFIN Rising Star Silver Award 2021
CHAU, Tin Yat (Thomas), QFIN Rising Star Silver Award 2021
LI, Mengyi (Mandy), QFIN Rising Star Silver Award 2021
AU, Cheuk Shing (John), QFIN Rising Star Silver Award 2021
QFIN Student Service Award 2020
Text Area
WONG, Pan (Matthew), QFIN Unsung Champion Award 2020
LIU, Shuangrui (Alex), QFIN Community Service Award 2020
LUK, Chun Yin (Mars), QFIN Community Service Award 2020
SHEK, Lok Kan (Tony), QFIN Community Service Award 2020
WONG, Jia Yeung (Leo), QFIN Community Service Award 2020
CHAN, Chak Yung (Cyber), QFIN Spirit Award 2020
KRISTIANTO, Jason, QFIN Spirit Award 2020
RUAN, Kaiyue, QFIN Spirit Award 2020
YUEN, Wai Ching (Ray), QFIN Spirit Award 2020
QFIN Student Service Award 2019
Text Area
LUI, Leung Yau (Thomas), QFIN Unsung Champion Award 2019
NG, Ho Hin (Andrew), QFIN Unsung Champion Award 2019
HU, Songjiang (Karlo), QFIN Community Service Award 2019
XIE, Yan (Lucy), QFIN Community Service Award 2019
ZHU, Qianqi (Ben), QFIN Spirit Award 2019
ZHANG, Ruiyang (Robert), QFIN Spirit Award 2019
QFIN Student Service Award 2018
Text Area
CHEUNG, Brian Tang Ching
CHIU, Lee Lee (Lily)
GUO, Zilin (Elaine)
LIU, Xiaoyan (Yan)
WANG, Ruijia (Ellen)