Students
Students Experience
Students And Alumni Testimonial
Students Awards
Text Area
The Programme aims to nurture future finance managers who can blend technical knowledge with an ability to work effectively with others and make a difference to business and society.
With this in mind, we offer a wide range of value-enhancing activities, so as to enhance the all-round development, business acumen and job-readiness of our students. Some of the enrichment activities include career mentorship program, Undergraduate Research Opportunities Program (UROP), finance seminars conducted by industry professionals and sharing sessions by alumni. These events intend to bridge the gap between industry expectations and what our students learn in classrooms.
In addition, our students actively engage in community service, joint-university conferences and international competitions. The Department of Finance strongly supports and encourages students to broaden their horizon by providing related faculty advising.
Regular social networking sessions are organized by the Department to foster a strong bonding among students.
Container
FINA Career Mentorship Program
Text Area
The FINA Career Mentorship Program aims to provide a platform to connect FINA students with prestigious mentors who have achieved success in various sectors of the industry. It is our honor to have FINA alumni to be FINA students' career mentors, and help FINA students solidify their goals and gain professional perspectives. FINA program is grateful for the partnership built with the HKUST FINA alumni community, and sincerely appreciate the support they have provided.

Here is the list of FINA alumni and the periods they participated as FINA Career Mentors:
Alvin LAM Yat Fung (2021 - Present)
Andy YAN (2020 - Present)
Aves CHAN (2020 - Present)
Barton CHIK (2021 - Present)
Cynthia CHU (2021 - Present)
Daniel ZHOU (2020 - Present)
Deon CHIANG (2021 - Present)
Gordon KWOK (2021 - Present)
Horace KWAN (2021 - Present)
Howard CHEUNG (2021 - Present)
Joey CHAN (2021 - Present)
Joyce CHOI (2021 - Present)
Kaiser WAN (2020 - 2021)
Kenneth CHEUNG (2021 - Present)
Max HO (2021 - Present)
Mukund SHAH (2020-2022)
Para ZHAO (2020 - Present)
Pasu YIP (2021 - Present)
Perki CHIU (2021 - Present)
Peter CHAN (2021 - Present)
Tony LAM (2020 - 2021)
If you have any question about the list, please feel free to contact us.
Text Area
The overseas exchange program can benefits students in many areas and provides advantages which can be carried through life. Through studying at leading overseas universities, students enrich their global outlook, expand their horizon as well as improve their interpersonal skills, creativity and cultural awareness. HKUST Business School continually seeks new opportunities to expand our network of quality exchange partners. To date, we have established a total of over 138 partners in world-wide destinations where students can choose to go on exchange. Click here for more information about exchange.
Our FINA students have gained valuable exchange experiences at leading overseas universities, including but not limited to the following list:
Boston College
University of California, Berkeley
UCLA
UT Austin
University of Southern California
University of Virginia
Text Area
Internships provides experience of corporate life before graduation and invaluable understanding of and exposure to work practice in the industry. Internships shorten graduates' learning curve in joining an organization and effectively help them optimize work performance.
FINA students have gained internship experience in:
Bank of America Merrill Lynch
Citi Bank (Hong Kong)
Credit Suisse
Deloitte Touche Tohmatsu
Deutsche Bank
Ernst & Young
Goldman Sachs
Hang Seng Bank
Hong Kong Monetary Authority
HSBC
KPMG
PricewaterCoopers Hong Kong
Silverhorn
Support for Acquiring Professional Qualifications
Text Area
FINA Program is comprehensive and offers many elective courses for students to develop specialties in specific areas of finance. Meanwhile, it provides flexibility to accommodate students' interest to declare second major and minor studies in other disciplines. As such, our graduates usually do well in the examinations for professional qualifications such as
Chartered Financial Analyst (CFA)
Chartered Alternative Investment Analyst (CAIA)
Certified Financial Planner (CFP)
Financial Risk Manager (FRM)
Professional Risk Manager (PRM)
Licensing examinations organized by the Hong Kong Securities and Investment Institute (HKSI Institute)
For UG students, the Department of Finance administer the application of CFA awareness scholarship and selection of scholarship recipients for eligible final year FINA and QFIN students who are first time takers of the CFA exam. The existing scholarship is for the June exam only. Final year FINA and QFIN students can apply when the Department sends email to students in early December. Ranking criteria is mainly based on academic performance.
Text Area
FINA students can participate in the Undergraduate Research Opportunities Program. This program nurtures an undergraduate research culture at HKUST. it is designed to give undergraduate students an opportunity to work closely with world-class scholars and participate in a range of research, scholarly and creative activities. In addition to invaluable knowledge, skill sets, and experience, students who join UROP can earn academic credit and stipend at the same time. Click here for more information about UROP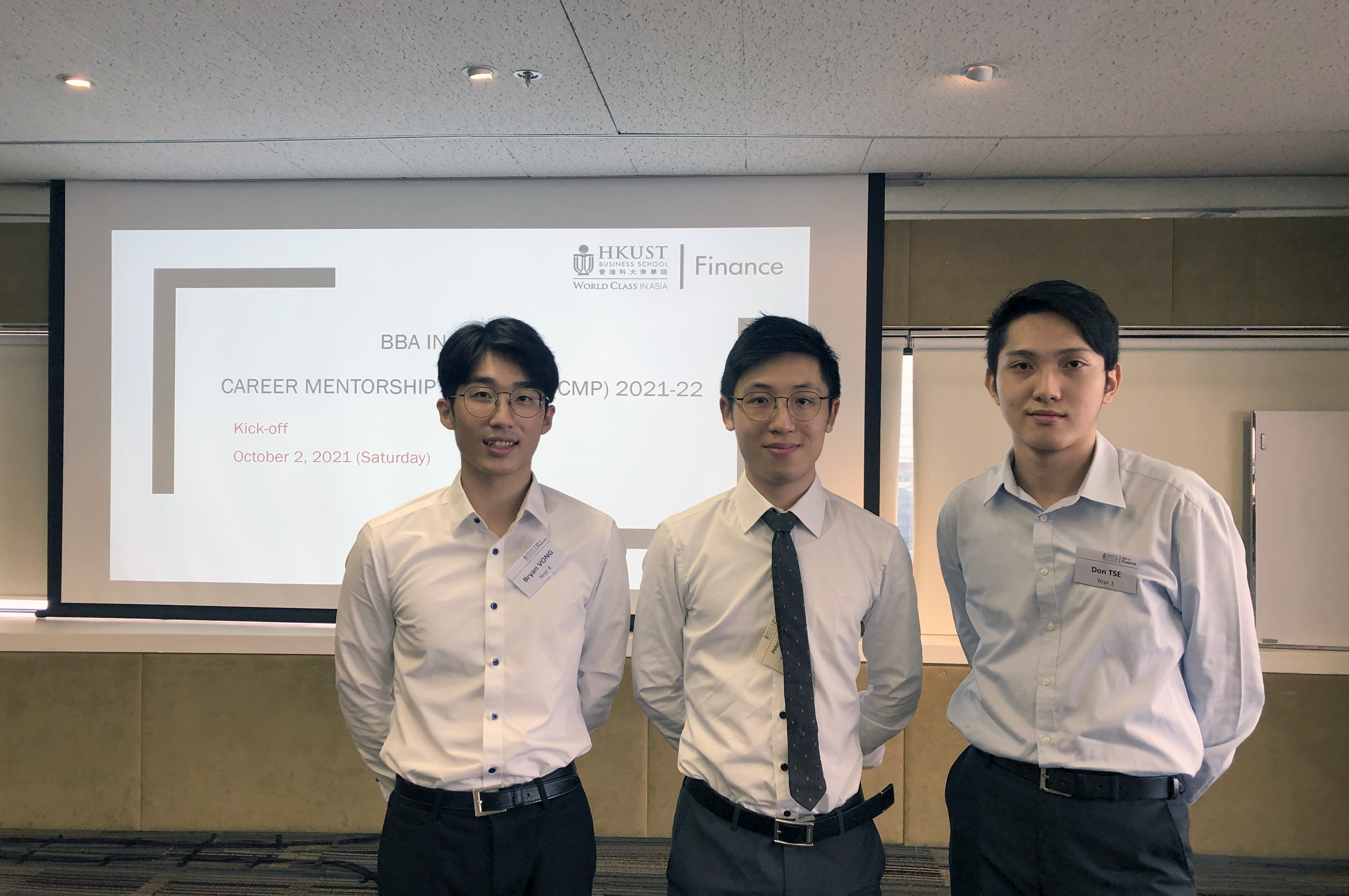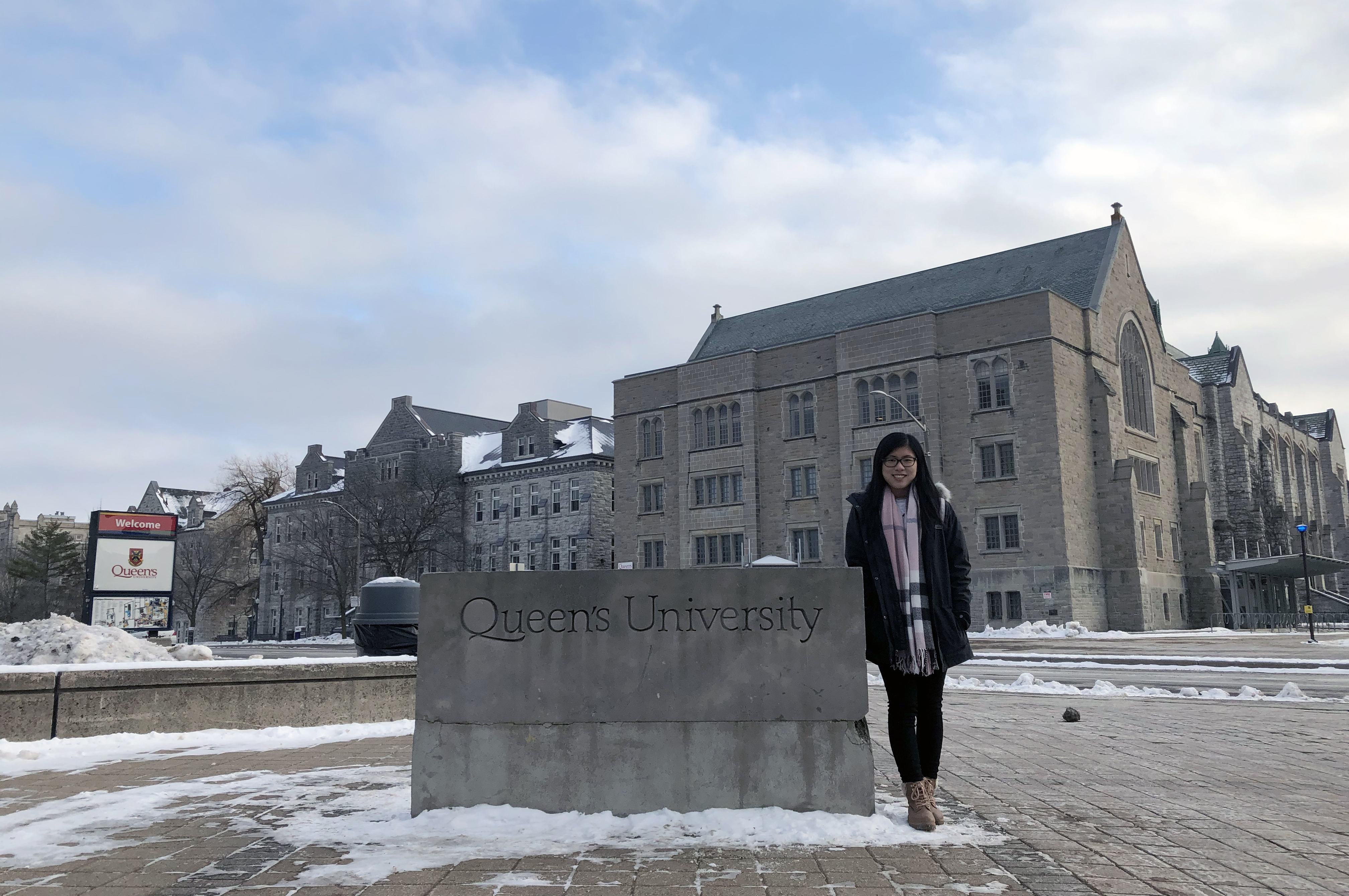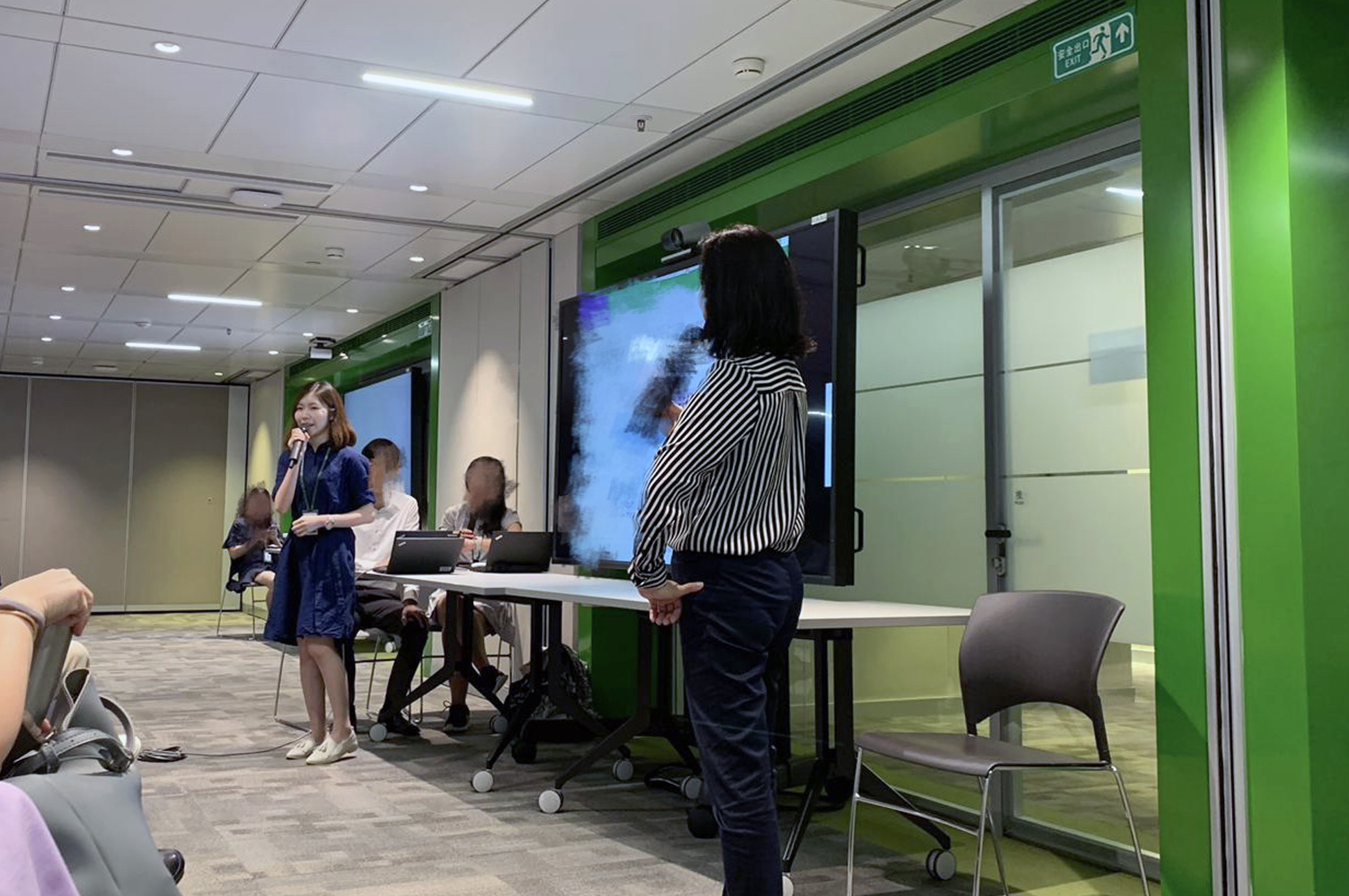 Left Column
Text Area
Mr. Mark PANG (Right), Mr. Sean AO (Left)
BBA in FINA (Right), BBA in FINA & ECON (Left), Class of 2018
Right Column
Text Area
BBA Finance program and the value-enhancing activities have well equipped students with analytical and critical thinking skill, while the connection with the industry experts have trained the soft skill set, in which students are having a broader career options.
Left Column
Text Area
Though the years, I am glad that I could apply what I have learned from the school. It gave me a full perspective, especially for the BBA course – Integrated Business, which I can apply the knowledge throughout my entrepreneur journey.
Right Column
Text Area
Mr. Alvin Lam
BBA in FINA, Class of 1998
Left Column
Text Area
Miss. Khyati Kapai
BBA in FINA, Class of 1998
Right Column
Text Area
The professors are very international for their contribution to their field, but at the same time, they are very effective in engaging students in the classroom. Their focus is always on the application of the content. Students have many opportunities to participate in international case competition and exchange programs.
Left Column
Text Area
Studying at the HKUST was very helpful, it equipped me with the basics and foundation and introduce me to the finance world. The School also provides very good infrastructure and is at the forefront to encourage students to use technology.
Right Column
Text Area
Mr. Alfred Ngai
BBA in FINA, Class of 1999
Text Area
The BBA FINA Program has established the Student Service Award to recognize students for their significant contributions to the FINA community throughout their years of study in FINA program.
Eligibility and Selection Criteria:
Final year students who are having FINA as their 1st major or additional major
Proven record in making significant contributions to the FINA community
Awardees will be nominated by the FINA Program
Recognized contributions (including, but not limited to)
FINA student ambassador
FINA student speaker
FINA SSLC student committee member
FINA Peer Mentor
FINA event helper
FINA student project team
FINA CV Reviewer
Container
FINA Student Service Award 2023
Text Area
CHOW, Sin Yee (Cindy), FINA Rising Star Silver Award 2023
LAM, Choi Chuen (Bernard), FINA Rising Star Silver Award 2023
CHAN, Shuk Man (Cathy), FINA Rising Star Silver Award 2023
CHAN, Chung Yin (Krystal), FINA Rising Star Silver Award 2023
NG, Lung Cheung (Tony), FINA Rising Star Silver Award 2023
LAM, Hiu Laam (Laam), FINA Rising Star Silver Award 2023
WONG, Cho Wing (Fred), FINA Rising Star Silver Award 2023
CHAN, Kwan Lok (Larry), FINA Rising Star Silver Award 2023
TSOI, Tsz Long (Louis), FINA Rising Star Silver Award 2023
OR, Ka Man (Carman), FINA Rising Star Silver Award 2023
YU, Man Ying (Natalie), FINA Rising Star Silver Award 2023
FINA Student Service Award 2022
Text Area
MOK, Ka Ho (Jacky), FINA Rising Star Diamond Award 2022
ZHAO, Peiang (Shawn), FINA Rising Star Gold Award 2022
YEE, Kei Yiu (Kris), FINA Rising Star Gold Award 2022
TSUI, Tsz Yan (Karen), FINA Rising Star Silver Award 2022
FINA Student Service Award 2021
Text Area
YEUNG, Ka Fai (Ivan), FINA Rising Star Diamond Award 2021
ZHENG, Chak Lam (Chak), FINA Rising Star Diamond Award 2021
TAM, King Yan (Ernest), FINA Rising Star Gold Award 2021
AGGARWAL, Minal, FINA Rising Star Silver Award 2021
HO, Wing Sum (Elsie), FINA Rising Star Silver Award 2021
SUHERMAN, Vieri, FINA Rising Star Silver Award 2021
WONG, Shuk Yu (Hilda), FINA Rising Star Silver Award 2021
FINA Student Service Award 2020
Text Area
TANG, Wing Chung (Alvin), FINA Unsung Champion Award 2020
KWAN, Man Ching (Maggie), FINA Community Service Award 2020
WONG, Keng Fong (Morris), FINA Community Service Award 2020
FINA Student Service Award 2019
Text Area
CHOW, In Kam (Eric)
CATHERINE
WONG, Yik Yin Jason